2015R1: The Transferred Hanbiao Zhang and Zhiqiang Zhang won!
source:
CTCC Official
Date:
2015/5/19 0:00:00
On May 17, the opening round SINOPEC LUBRICANTS CTCC 2015 season was held in Guangdong International Circuit, based in Zhaoqing. In Super Production Group, Dongfeng Yueda KIA driver Zhiqiang ZHANG took the season's first wining, Changan Ford's Andy YAN got the second , the third place is Dongfeng HONDA Racing Team driver Henry HO. On the other hand, Huan ZHU got the first place for BAIC SENOVO in race 1 of China Production Group, Beijing HYUNDAI driver Yue CUI finished with second place, GRT RACING's Yang LIU achieved the third. In race 2,Beijing HYUNDAI driver Hanbiao ZHANG crossed the finish line first, XINGZHILU Racing's Yang LIU and BAIC SENOVO Daiwei ZHU finished second and third respectively.
Super Production: The Victory for Team KIA
Last season, Dongfeng Yueda KIA took part in the last 4 games, which was a preparation for the 2015 Season. Zhiqiang ZHANG, who started the race from pole position, eventually clinched his second CTCC victory after an intense fight. Since Team KIA raced with 1.6 liter turbo cars from 2012 season on, the victory maybe a bit late, but still valuable.
The highly rated Dongfeng Honda Racing Team didn't make their best performance, but showed their strength. Sirui ZOU have lead the race, his teammate Henry HO scored a podium finish. Changan Ford Racing's Andy YAN got the second place with his knowledge of Guangdong International Circuit. CTCC introduced 2.0T group this season,the four cars of the only competitor Shanghai Volkswagen 333 Racing all finished the race safely, Tengyi JIANG, Han HAN and Rui WANG got the first three places respectively.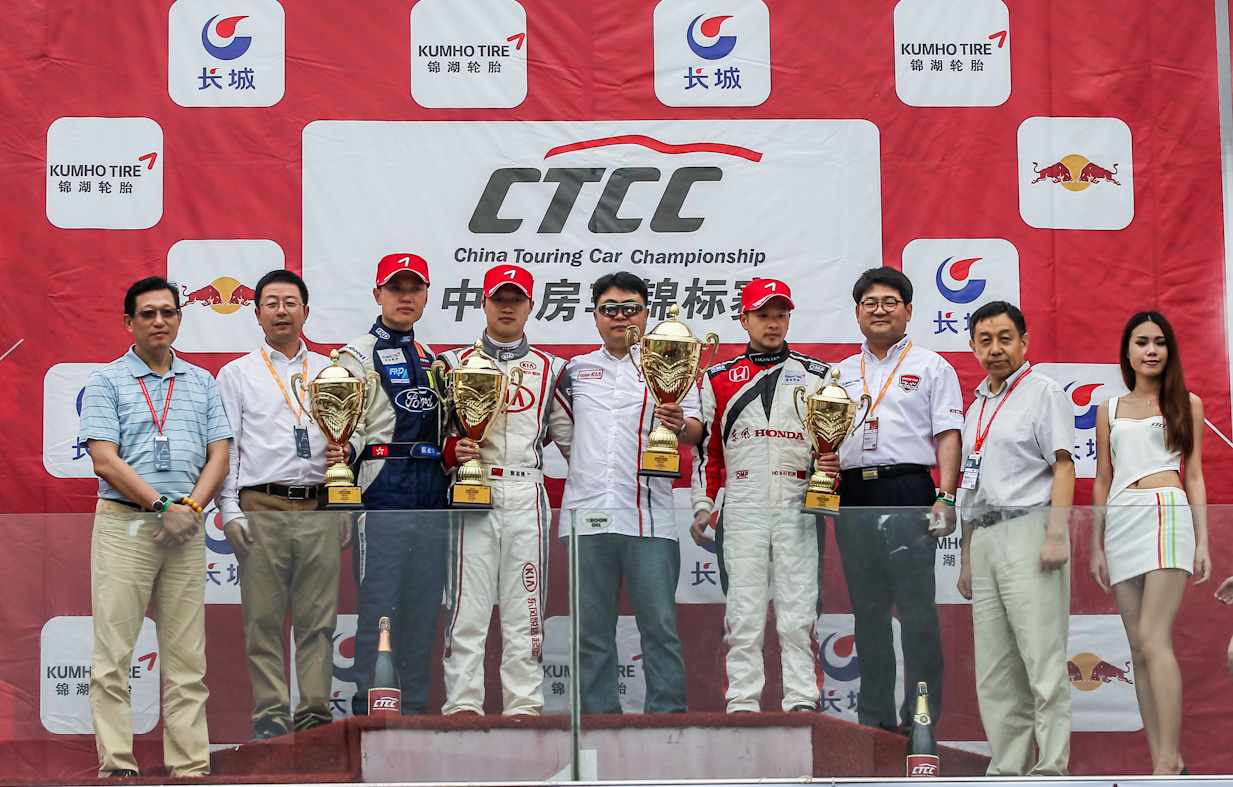 China Production: Hyundai and BAIC Won
Although the manufacturer teams didn't perform well in qualifying, but they fight in the two races since they have more resource. BAIC Senova Racing's Huan ZHU won the race 1 and Daiwei ZHU also got the third place of race 2.Beijing Hyundai Racing, another manufacturer team did a nice job as well. Although Yue CUI crashed by another driver after he jumped into lead but he soon recovered to second place.In the race2, CUI's new teammate Hanbiao ZHANG scored his first win after an eight-year CTCC career.
Although the front runners had intense fights,the midfielders of private clubs also showed good pace. Xingzhilu Racing and newly founded GRT Racing both clinched podium finishes. 29 cars of China Producton class filled every corners of Guangdong International Circuit, some splendid moments that four cars came through a single corner, or drift during the race have taken place for several times. Despite the regulation changed a lot in 2015 season, the competition of China Production class still attracted spectacular.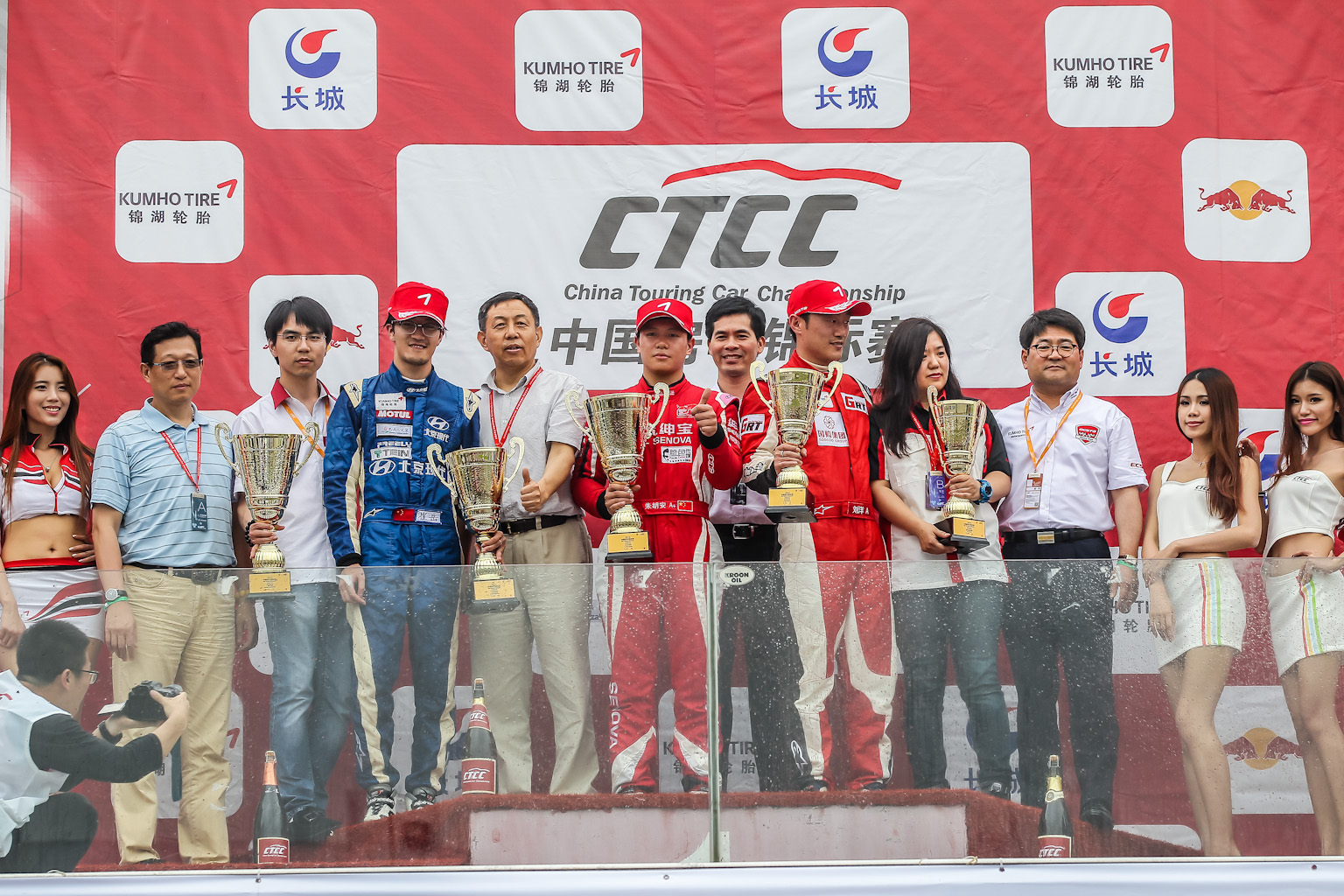 Yuji IDE and Junbin LEI triumphs support events
Japannese driver Yuji IDE from ECSTA RACING got his second Korean SuperRace Championship win in rain,after a 45-minute race. IDE won last season's Tianma event as well. It's not easy for the 6200cc Super6000 racers to run on the damp circuit.
In Touring Car Masters Challenge, another support event, Junbin LEI won both races. Wang LIU scored two podium places,female driver Denise YEUNG also got a third place in race 1.
Success of new media
The well known websites, such as Tencent,LETV,PPTV,iQIYI all boardcasted the opening round in ZHaoqing. CTCC also raised a huge number of containing money as a gift, which will be provide on the official WeChat platform of CTCC. This method earned more than2000 fans of CTCC official account. And there will be more containing money on the second round of CTCC.
The round 2 of SINOPEC LUBRICANTS CTCC 2015 season will be held at Shanghai International Circuit on 5-7 June.