CTCC R2 Wrap: Honda Claimed and GTMC Toyota First Winning
source:
CTCC Official
Date:
2015/6/9 13:44:42
On June 7, 2015, the second round SINOPEC LUBRICANTS CTCC 2015 season was held in Shanghai International Circuit, partnered with CJ SuperRace. In Super Production group, Dongfeng Honda Henry HO took the wining , Dongfeng Yueda KIA's Ka To JIM got the second , the third place is Chang'an Ford driver Andy YAN. On the other hand, Wei An CHEN got the first place for GTMC Toyota in race 1 of China Production group. BAIC Senova driver David ZHU finished with second place. Hu Ping CHEN, who comes from GTMC YARiS L Team as well, achieved the third. In race 2, Beijing HYUNDAI driver Yue CUI crossed the finishing line firstly, GTMC YARiS L Team Da Sheng ZHANG and BAIC SENOVO driver Hu An ZHU finished second and third respectively. Shanghai Volkswagen 333 Racing driver Zhen Dong ZHANG, Han HAN, Rui WANG got all podium places in brand new Super 2.0T Group.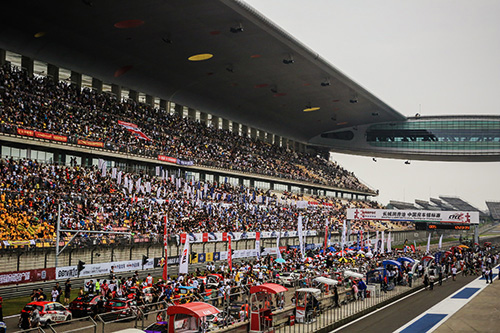 Super Production group: Honda Claimed with a Reversion
Dongfeng Honda's Henry HO and Martin XIE was removed to back field because their cars haven't prepared well before the race. But both of them made a exciting race and overtook lots of rivals. After a nine-lap fight, Henry HO overtook 10 cars in total, it reinforced his maiden CTCC winning, became the second Macau winner after Michael HO.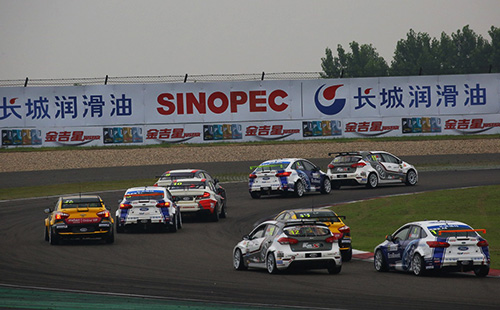 Dongfeng Honda, Dongfeng KIA and Chang'an Ford all got a podium finish. Haima M6 Racing, who returned to CTCC for the first time this year, all finished this round safely. In the later rounds, Super Production group will be more entertaining.
China Production group: The Wider Regulation
Before this round, the regulation of attacking and defending become much wider than before, which leads a more fierce fight in China Production group.
During the race, the splendid scenery such as four cars from Beijing Hyundai Racing closed all the lines on the straight line, or several cars went into turn 1 for the same time took place for many times. The spectacular seat always break out cheer. After two intense races, GTMC Toyota YARiS L Racing driver Wei An CHEN and Beijing Hyundai driver Yue CUI triumphs respectively.
Super 2.0T group: Beginning of New Era
From this round on, CTCC introduced a third group, which called Super 2.0T group. The new group is accorded with trend of world championships, claimed as a main group of CTCC in following years. Shanghai Volkswagen 333 Racing's Zhen Dong ZHANG became the first ever winner of this group. Pole man Han HAN didn't maintain his pace in the race, finished behind his teammate. Another Shanghai 333 man Rui WANG round out podium.
CJ SuperRace: 1-2 for CJ Racing
Korean driver Dong En KIM from CJ RACING got SuperRace Championship win in Shanghai, after a 45-minute race. KIM's teammate Jin Woo HWANG crossed the line second. The 6200cc Super6000 racers performed well on the really long circuit.
CJ SuperRace will back to Korean International Circuit on 19 July, CTCC will also move to Korea for the forth round.
Gift money Came again in Shanghai
The well known websites, such as Tencent, LETV, PPTV, iQIYI all boardcasted the second round CTCC in Shanghai. CTCC also raised a huge number of containing money as a gift, which will be provide on the official WeChat platform of CTCC. This method earned more than 5000 fans of CTCC official account. And there will be more containing money on the second round of CTCC.
The round 3 of SINOPEC LUBRICANTS CTCC 2015 season will be held at Shanghai Tianma Circuit on 19-21 June, which might be the first ever night race of CTCC.